Anytime you can create something fun with your food kids will eat it up. Try giving the kids ideas or a picture and let them make their own creations. Here are some of our
favorite animal theme food ideas.
Animal Theme Food Ideas
Turn a simple boiled egg into
chicks
. See a few variations on our
farm theme page.
You can
buy candy eyeballs
and use them all over your food just like in these meatballs. Just add a carrot piece for a beak.
Create some edible
Spiders
Adding olive slices and pepper slices for legs you can create your own spider theme pizza.
Dinosaur Ideas
-
Create dinosaurs
out of vegetables makes a fun twist in a vegetable tray.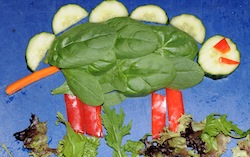 Owl Food Ideas
- See these fun owl ideas for your kids snacks...
Farm Animal Ideas- Make a sandwich more fun with easy ideas like these...
Snake
theme ideas can be easy as this simple tomato mozzarella "salad" snack or see more
snake theme ideas here.
Bird Theme Snacks
: These are easy to make with a few ingredients.
Penguins
- Create fun
penguin theme snacks.
Under the Sea Snack Theme
- With a sea theme you can create many fun ideas for animal snacks like these...
Decorated cake pops
-
learn how to make cake pops
and design some fun animal shapes.
Turkey Shaped Fun Snacks
like a relish tray, turkey bread, turkey shaped apple and more..
Bunny Theme Snacks
Cutting out shapes of animals is an easy way to create fun food.
More Fun with Food Ideas