Mel, the Gift girl shares some of her favorite ideas for making gourmet Christmas gifts with kids.
Each year I look for some gourmet Christmas gifts I can make with my kids. With a creative director (she's 8), a mad scientist (he's 10) and a professional organizer (he's 12), we cook up some fun recipes. Here are a few of the best -and easiest- gift ideas we have come across for kids to make in the kitchen.
Chocolate Dippers
First you go on a prowl through your house looking for items to dip in chocolate. You can dip pretzels, animal crackers, wafer cookies, nuts, dried fruit, marshmallows and much, much more. Next you melt some chocolate (dark, milk or white) in a bowl and begin dipping each treat. You can dip half way or dunk completely. Then let the dipped pieces harden on a wax paper lined tray. Package in jars or bags and decorate with ribbons.
Cheese Ball
This is fun to stir and shape...though our designs don't always turn out to be sphere shaped. You can shape your cheese ball into a Christmas tree or snowman, for example. There are many great recipes out there, but this is our family's favorite:
2 pkgs. cream cheese, softened
1 jar Kraft Roque Blue cheese
1 jar Kraft Old English cheese
dash of garlic powder
Mix all together. Shape as desired. Optional: Coat cheese ball with finely chopped pecans. (We always coat half and leave half uncoated.)
Cinnamon Popcorn
Flavored popcorn
always goes fast at our house so we have to pack it up quick and give it immediately! My bookworm son just brought home a whole cookbook with nothing but popcorn recipes which included every imaginable flavor.
Cinnamon is one we enjoy quite a lot, though I don't remember anymore where the recipe came from. Be sure to let the popcorn cool before testing because the sugar is really hot.
4 qts. popped corn
1 c. butter, melted
2/3 cup sugar
1 Tbsp. cinnamon
Stir the butter, sugar and cinnamon together in saucepan until sugar dissolves. Pour mixture over popcorn and stir well until all the kernels are coated. Pour into a shallow roasting pan and bake at 300 degrees for 10-20 minutes, stirring occasionally. It will be gooey when hot but will crisp as it cools.
Mel, the Gift Girl liked to make gifts so much as a child that she made up her own holidays so there would be more chances to give gifts! She has many more gourmet gift ideas on her website -
holiday gift idea blog
.
More Christmas Cooking with Kids Resources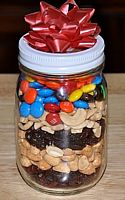 Candy
Christmas Candy Recipes
Homemade Chocolates
Homemade Fudge Recipes
Homemade Suckers
Chocolate Bark Recipes
Homemade chocolate truffles
Cookies
Christmas Cookie Recipes
Gingerbread House Recipes
Cookie Swap
Gifts and For Fun
Food Gift Ideas
Dough Ornaments
Edible Gift Baskets
Jar Mixes
Strawberry Santas
Reindeer Theme Recipes
Orange & Cloves Decoration