Campfire Pastries
by Cameron (USA)
When we go camping, we make these camp fire pastries using
hinged molds
. We put buttered slices of bread on each half of the mold, buttered side down, and put a spoonful of pie filling from a can on one half's piece of bread. Then we close the hinged mold and it gets smashed together. Then we hold it over the fire for a while like toasting a marshmallow and after a few minutes you can open up the mold and you have a hot toasty pastry pie! Really good with a little powdered sugar.
Doughnut on a Stick
by Angel Roney (Middlebrook, Mo)
Hot and fresh over the fire!
We use cheap biscuits in a can.(Crescent dough can also be used)Start by rolling a biscuit with your hands till you get a rope. Wrap aluminum foil from the top of the stick down about 5 inches.(This will allow for the doughnut to slide off easily)
Wrap the dough rope around the aluminum foil. Cook over fire like a marshmallow. When done, roll in melted butter and then sprinkle with cinnamon and sugar. Icing is good on these too. Enjoy! Our kids do!
Campfire Dump Cake
by LINDA
Ingredients:
1 can pineapple tid-bits
1 can cherry pie filling
1 yellow cake mix (or whatever kind you like)
1/2 cup butter cubed
Grease or spray an old pot, or a tin-foil pan to try and prevent sticking. Pour the can of pineapple tid-bits in the bottom....juice and all.
Sprinkle the dry cake mix over the pineapple. Blob the cherry pie filler around the dry cake mix.
Randomly drop the cubed butter over that.
DO NOT STIR THE LAYERS.
Cover with tin-foil. Place pot in the burned down coals of the campfire for around 30 minutes (depends on the heat of the fire).
Chocolate Fondue
by Lisa (Canada)
You need one soup can, tealight and small foil tart tin per person. The adult takes the tin can and using a bottle opener opens 3 holes around the top and the bottom of the tin. Start the tealight, then place in tin can.
Put the tart tin in the top. Add mini chocolate chips. Let the chips melt. Then use the skewer to dip strawberries, angel food cake or grapes. I make the angel food cake before I leave for camp. You can also use pound cake.
Peach Cobbler
Simple crust ingredients thrown over deliciously ripe peaches in a cast iron Dutch oven or deep skillet will be a beautiful and delicious treat. You don't need to be in your grandmother's kitchen to enjoy this wonderful dessert. Instead, invite Grandma to your campfire and show off your own version of her classic dessert.
You don't have to limit yourself to peach cobbler, either. Bring along any fruit or cans of any pie filling, cover with crumbles made of oatmeal, raisins, flour, brown sugar, and a little butter, for a classic cobbler of any flavor. The cast iron skillet or Dutch oven is the secret to success.
Banana Bundles
This is a classic foil wrapped dessert that campfire dessert aficionados love. Just lay out squares of heavy duty foil, then slice bananas lengthwise, not cutting all the way through, and stick chocolate pieces in, then wrap them up and put them on the campfire. Simple, yet heavenly.
However, you don't have to stop at a simple chocolate stuffed banana. Create works of dessert art by stuffing the banana with nuts, raisins, mini-marshmallows, and even mint leaves. And go beyond even that fun by wrapping bananas cut in half in a crescent roll rather than in foil. Put directly on a fine grate over very slow embers until the crescent roll turns brown and puffs up. Now you have a 'banana in a blanket' that will please anyone.
Monkey Bread
For the ultimate in campfire comfort food, Monkey Bread is a delicious way to end the day. You can make this classic treat easily by using buttermilk biscuits in a tube, cut up, then shaken with a cinnamon sugar mix and thrown into a cast iron Dutch oven. Melt up some butter and brown sugar and pour over the biscuits, then cover, and surround the Dutch oven with coals or embers and let it bake away.
To bump this classic up a notch or two, serve with a simple icing, just like cinnamon buns. It's easy to make an icing by mixing together powdered sugar and milk or water, then just drizzle over the monkey bread after you've opened it up. Then, dig in!
Camping can provide you with the opportunity to cook up some of your absolute favorite desserts or create something entirely different. Sweet desserts cooked over the campfire, enjoyed under the stars... what a great way to end the day.
With an adult's help campfire cooking can become great memories. Go beyond the hot dogs on a stick or smores and try something a little fun and unique.
Dive into a whole lot more camping information and 90 camp inspired recipes!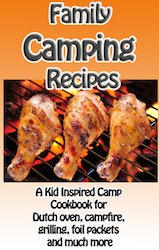 Family Camping Recipes on Kindle
Campfire Cooking Recipes
Campfire Desserts
Campfire Games
Fun Camping Activities