I puree vegetables and store them in the freezer to add to soups, breads, ground meat, sauces, and on and on...
I take no credit for the idea it is all thanks to
The Sneaky Chef
. You can learn
how and what I hide vegetables in.
So today I enlisted some help peeling carrots, zucchini, pureeing in the blender and adding labels. We had several pounds of carrots and zucchini alone.
It's a beautiful thing -isn't it?! So much beautiful colors
My favorite thing about this day was seeing their variations of spelling on the labels. Still brings a smile to my face.
More Freezer Cooking Resources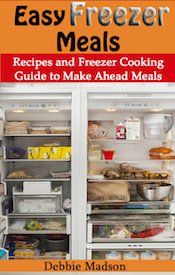 Freezer Cooking Ebook
- Over 100 recipes for
freezer meals!
Visit
freezer meals
for more information on how freezer meals can make life easier for you and your family.
Stocking the freezer with hidden vegetables.
What are freezer meals and why use them?