What exactly are freezer meals, and how they can help you as a parent with too little time on your hands? Not to be confused with the frozen packaged meals you would buy from a supermarket, these are simple meals you've prepared in advance and then frozen for another time.
Our modern lifestyles mean that we often don't have the time or energy to cook when it's mealtime, so it helps to prepare a few extra meals when you have the chance and save them for later by freezing them.
Benefits of Using Frozen Meals
There are plenty of upsides to making meals and freezing them for later on. Let's take a look at a few of these.
For one thing, frozen meals can be a huge time saver. Some parents even get away with making a week's or even a month's worth of meals in a single day and freezing them. Can you imagine getting all the week's cooking out of the way on Saturday and then relaxing every evening for the rest of the week?
If you're an experienced budget shopper, you may have already hit on one of the other big benefits of preparing frozen meals: it can help you save money. We all know food is cheaper when you buy in bulk. Making frozen meals means you can buy more food at a time when you visit the supermarket, helping you save money - and further helping you save time by cutting down supermarket visits.
Another major benefit of frozen meals is the choice available to you on any given night. Imagine having a month's worth of frozen meals stored up - it would be like having your own personal buffet. Most parents tend to stick to a meal plan as they believe this is the easiest way to keep the kid happy and make dinner as stress-free as possible. But the simple fact is you don't want to eat macaroni every Tuesday night - no one does. When you have a whole lot of meals cooked in advance, you can change things up and don't have to be constricted by a meal plan.
What Can You Freeze?
You'd be surprised at the variety of foods you can freeze. Obvious choices include chicken breasts and burger meat. You can buy plastic burger patty containers to divide up the meat and then freeze them all together. When it comes to meal time, all you have to do is slide them out of the containers and into a pan or George Foreman grill.
You can also freeze fruit that is going bad in order to preserve it for making smoothies. This is a great way to avoid wasting food, especially if you're on a tight budget.
Of course, all the standard easy family meals like macaroni or meatballs can also be frozen for later eating. Your best option is to refer to a reliable source of information on frozen meals and preparing meals for your family in general.
More Freezer Cooking Resources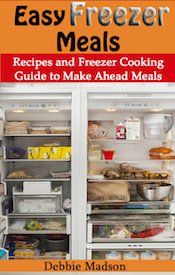 Freezer Cooking Ebook
- Over 100 recipes for
freezer meals!
Visit
freezer meals
for more information on how freezer meals can make life easier for you and your family.
Stocking the freezer with hidden vegetables.