So today I'm getting ready to send my kids back to school after a long break and one thing I like to do is
stock the freezer for school lunches.
Here are some of my kids favorites:
Muffin recipes
Granola Bars
Hamburger Rolls
Mini hamburgers/sliders
Energy Bars
Pizza Rolls
I have each of my kids choose a recipe and we prepare it, cut them in bars if needed and freeze them in small sandwich bags.
This makes mornings easier for all of us when they can grab something from the freezer and it will unthaw by lunch time.
What do you like to have on hand for your kids school lunches?
More Freezer Cooking Resources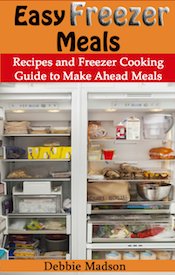 Freezer Cooking Ebook
- Over 100 recipes for
freezer meals!
Visit
freezer meals
for more information on how freezer meals can make life easier for you and your family.
Stocking the freezer with hidden vegetables.
Stock the freezer for school lunches
What are freezer meals and why use them?